Recently, I have noticed the many mom bloggers who have been publishing the popular post, "Reasons My Son/Daughter is Crying" all over the internet.
Please don't get me wrong. I harbor no animosity toward those who have published these posts I know these posts are meant to be cute, funny, harmless, and innocent. I really am happy that these healthy children are crying over trivial, silly issues and benign problems such as, "My mommy won't let me have another lollipop," My mommy won't let me bite my brother," or "My belly button has fuzz in it!"
But, there are so very many sick and hurting children whom I have become very fond of and attached to who are crying over much graver and more serious issues and we moms are weeping right along with them. Some of these sick children may never, ever get any better this side of heaven. My own daughter, Bethany most likely included. You can read more about her story here. We wish with all our hearts that our children were only crying over spilled milk!
Let me tell you about some of the reasons our children are crying.
Bethany has cried because she had the worst headache anyone could ever imagine. She has cried because she had to have brain surgery to remove a very large tumor from her cerebellum. She has cried because she had to have her lower back cut open (again) with nothing but a topical pain killer applied so that a brain fluid drainage tube could be snaked up her spine into her brain. She has cried because she had to have her fourth spinal tap done. Bethany has cried because she had a stroke and lost some of her vision. She has cried because she has had thousands of seizures over the past twelve years. Beth is crying because after going over six months without having one seizure, it looks like she is having them again.
Tiara cries because she has Tuberous Sclerosis. She has breathing issues, brain tumors, and seizures. She just spent a two week stay at the hospital where she was having breathing problems and needed to be on a ventilator. She also needed dialysis treatments because her kidneys began to shut down.
Baby Connor has cried because he also has tuberous sclerosis. He's endured numerous medical procedures and symptoms of tuberous sclerosis, including tumors and seizures.
Trevy and Cully have cried because they both have Infantile Spasms, a devastating and catastrophic form of epilepsy.
Peyton has numerous undiagnosed conditions and health concerns which mimic Dandy Walker Syndrome and Brittle Bone disease but aren't. Currently, she has been in the hospital for more than three weeks because of unknown infections either in her bones or elsewhere. Yet another condition has recently been discovered. Her bones are breaking for no apparent reason.
A bone in her leg actually broke in a new spot while in a cast for another break! Her parents are afraid to touch her for fear of breaking her bones! Imagine having the overwhelming desire to hug and comfort your sick and hurting child and not being able to because you might break her!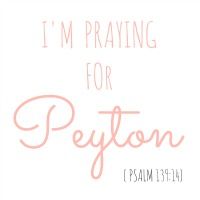 Boo is also undiagnosed. Her mother calls her a medical enigma! These are some of the issues she has dealt with: GERD/Allergic to all formulas, Larngolmalacia, Aegis of the Corpus Callosum, Genetic abnormality never seen before, Aspiration, Hypotonia, Pulmonary Edema, and Global developmental delay (severe).
CJ is a little boy that has way too much in common with Bethany. He had a brain tumor, a diffuse fibrillary astrocytoma, grade II to be exact. He has also been diagnosed with autism, seizures, and a mood disorder.
Sweet little Gavin isn't crying anymore but his parents are because he just went to heaven.

I am pleading with all my blogging friends to pray for these beautiful, sick, and hurting children. Please visit their websites and get to know them and see for yourselves why they cry.
I am Linking up to:
Mommy Confessions
My Favorite Posts show Off Weekend Blog Party
MondayS Musings 58
Homeschool Review
Mommy Brain Mixer
Friday Flash Blog 14
Family Fun Friday